Read on for our comprehensive review of Derma-nu Antifungal Soap with Tea Tree Oil & Active Ingredients.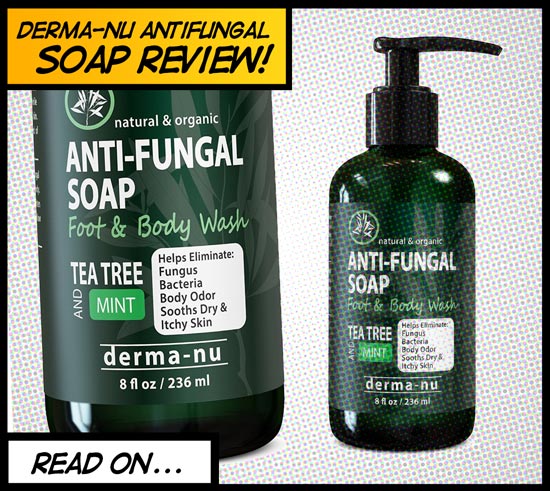 Before I bought this product, I was unsure whether it could really live up to the hype. I didn't think that a soap would really be able to take care of the fungal problems I already had and also prevent new issues.
But…after using this soap for the last few weeks, I've been pleasantly surprised. During my triathlon training I've developed a bit of a case of jock itch and athletes foot. I get pretty sweaty while running and cycling, and I seem to always come down with some kind of infection right in the middle of training. While I know of ways to combat jock itch, I was looking for something a bit more convenient. This soap got rid of these issues in days and I haven't seen any sign of return.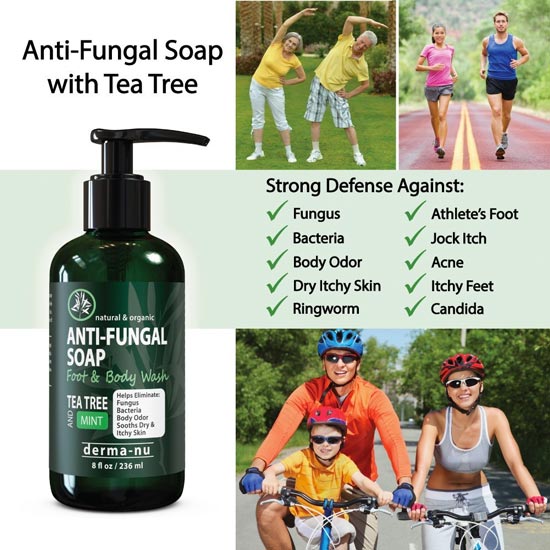 Pros:
It turns out this soap actually has an ingredient called tolnaftate, which is FDA approved to treat Athlete's Foot, Ringworm and Jock Itch. This means that it has gone through clinical trials in order to prove that it works.
Contains tea tree oil which is known to help with a variety of skin problems such as psoriasis, acne and dry/itchy skin.
The soap is quite concentrated. Only a small amount is needed for each use. Meaning Derma-nu soap will last a lot longer!
Derma-nu Leaves your skin feeling fresh and clean.
It can help with infections in your nails.
Derma-nu soap works quickly. The relief of this actually working and getting rid of my infections as quick as it did was amazing.
A foot and body odor killer!
It is easy and convenient to use. The only requirement is to apply it like a soap in the shower.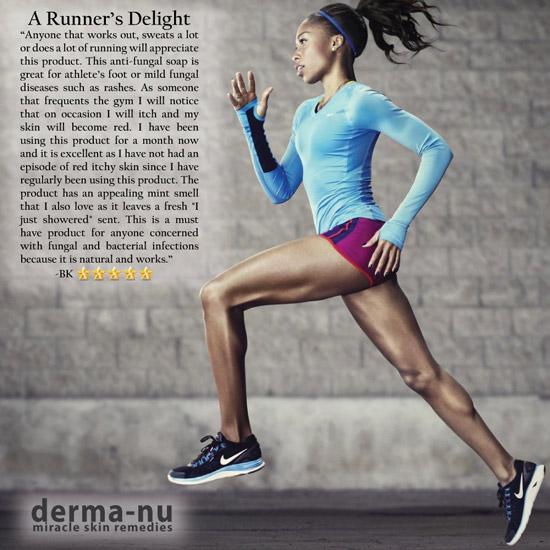 Cons:
It feels a bit strong to be using on my face. I have pretty sensitive skin though, so your mileage may vary here. I'm just used to using one soap for my face and body in the shower.
The smell is not particularly unpleasant, but there is a discernible chemical note. Again, this may be particular to me and might not bother others. It certainly was not overpowering and I wasn't able to notice it after showering. My wife and friends certainly didn't comment on it. I think this is the soap working against odors.
Overall, I definitely recommend Derma-nu Antifungal Soap with Tea Tree Oil & Active Ingredients.
I was at first hesitant, I thought that I would need some sort of cream or spray to get rid of the infections that I had. As a long time athlete, this was not my first time dealing with fungal infections. I've even had to go to the doctor when over the counter treatments weren't working. To my very welcome surprise this product worked and it seems to be keeping any further infection at bay. I could finally get back to my normal training without having to be embarrassed around my friends, scratching my crotch and my feet any time I thought they were looking away.
I think Derma-Nu caught the infection before it got too out of control, and now I have a good way to keep it away. I'm also happy to find that it seems to be clearing up some of my body acne. The only two things that I did not like about the soap were the fact that I couldn't use it on my face and the smell, but I think these might be more personal issues than real problems with the soap itself. While it might be a bit strong, that's what you want when you're trying to get rid of an infection.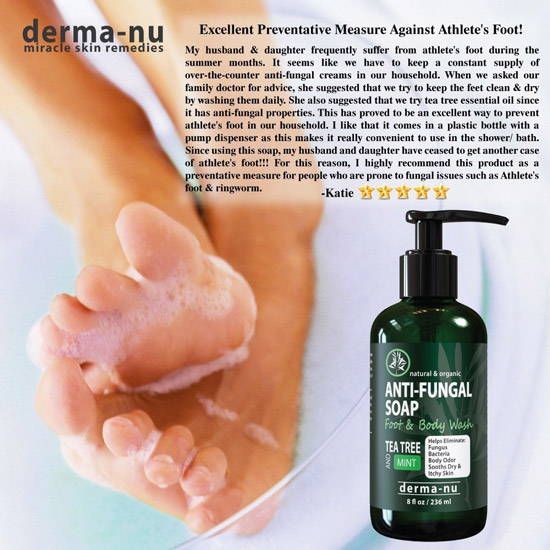 Derma-Nu soap is definitely worth a try to help relieve and cure your jock itch.