We've all had it. The hidden jock itch enemy that somehow gets through our defences and hits us where it hurts the most, ground zero…our groin! Knowing what underwear is best to fight jock itch is only the beginning.
Before you read which underwear we think is best for curing your jock itch dilemma, first make sure you have a butchers hook (look!) at the following other articles on here. A combination of the right applicant such as cream or spray, plus the right underwear can really help to accelerate healing jock itch, so get at them!
Ok, so now you're prepared medically, let's address your wardrobe choices to achieve a jock itch free crotch!
When it comes to dressing here are a couple of things you want to keep in mind.
Keep it loose
That's right, now is not the time for tight jeans, no matter how many Emo bands you listen to. I'm not saying throw out all of your "The Used" albums, just shelf them for a week or so (you can keep the man-fringe though).
Remember you gotta let your balls breathe! Jock itch breeds in moist dark spaces so keeping our clothing loose and breathable lets more air in and helps keep your nether regions dry! This point will play a big part in the future consideration of which underwear to choose!
Keep it light
As stated in the last point, the idea is breathability. Don't choke your chode! You want to hit it with some natural air conditioning, so for this reason start dressing like a hippie. You know, loose pants, tie die t-shirts, braids in your hair, it'll all help! Ok, maybe not the braids, but definitely the loose, light pants!
A good test is to blow air onto the fabric. If you can feel it on the other side then it's a great material to help with jock itch alleviation. If you can't feel your breath, the fabric is too heavy (most jeans will fit into this category and have got to go).
Keep it nude!
The best clothing to cure jock itch is no clothing at all! Yep, seriously! So for this reason you should seriously think about going "nakie" as often as you can.
If you're home alone, get funky and lose the clothes! You will feel the breeze across your tender parts and boy will it feel good! Trust us, in fact…get naked now! That's an order soldier!
Ever seen the movie about that kid and the killer whale, yep this is just like that!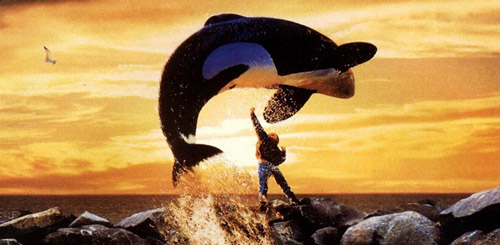 Ok, so in a perfect world you could just walk around naked all day. We are realists here at Jock Itch Crusader and know you can't do that. But at least with our tips above and the following underwear "best of" you can get your wardrobe also doing it's bit in the fight against jock itch.
Here are the 5 best choices for loose, light and well fitting underwear that will combat jock itch – read on!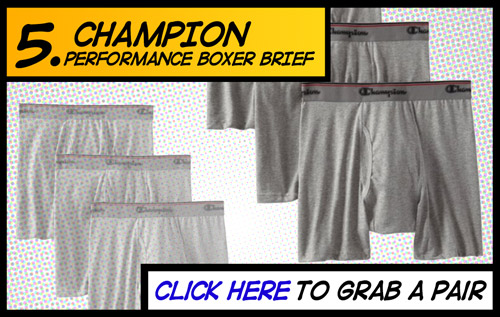 To us the Champion Performance Boxer Brief is the perfect mix of technology and affordability (especially when buying the 3 pack).
It has all of the bells and whistles such as moisture wicking fabrics that are gonna keep your junk cool and dry, a great design that will prevent ride up and they stretch to give you full movement but importantly won't lose their shape!
So if you are looking for value but still want a moisture wicking fabric, then the Champion Performance Boxer Brief is the choice for you.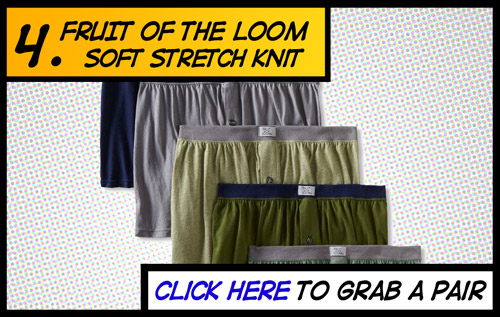 If you are after value for money then you can't go past the Fruit of the Loom Soft Stretch Knit Boxer. These are the workhorse of underwear.
Light, super soft fabric is designed to keep you comfortable. They are a loose fit, which as you know by now, is essential for keeping moisture at bay.
Put simply, they aren't the most high tech, especially compared to some others on the list, but when it comes to bang for your buck, they'll keep you comfy and fresh!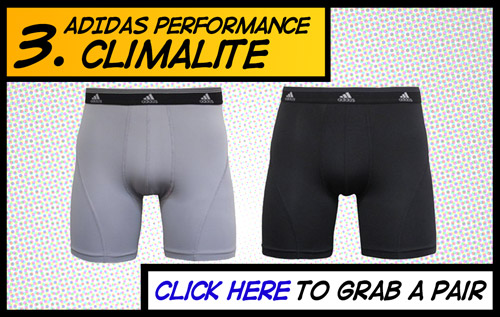 The biggest name on this list, adidas bring their wealth of knowledge in sport and fashion and combine it into one hell of a boxer-brief. 
They may be a hugging fit, but the lightweight, ultra-soft fabric is specifically designed to work against your skin. This way it will wick away sweat and keep you dry no matter whether you are working out, doing sports or just wearing them on a stinky hot bus.
They have a great 2 inch rim that will hug your waist without cutting into your skin or slipping around. The legs are 6 inches long and specially designed to stay in place and not to ride up or bunch on your legs, instead they will sit comfortably like a second skin!
2. Under Armour Men's HeatGear® Performance Boxerjock® Boxer Briefs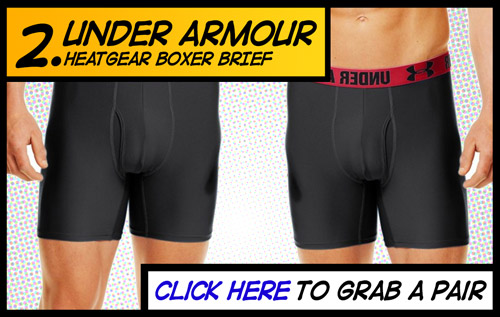 Ok, now we are really going to lift our game. Introducing Under Armour Mens HeatGear Performance Boxerjock. Your case of Jock Itch doesn't stand a chance!
A pair of these bad boys will take your fight to the next level. They are created using Under Armours patented HeatGear fabric. A lightweight synthetic that wicks away sweat, keeping you dry, dry, dry.
Odors, what odors! The HeatGear fabric contains anti-odor tech that prevents the growth of odor causing microbes. No more bacteria means no more doors.
Also, if you're a bloke who suffers the occasional chafe between the legs then fear no more, these boxers have been designed with a "chafe free flat lock seam construction". A bit of gibberish from their marketing people, but essentially they've been specially designed so the fabric doesn't excessively rub against the skin and cause chafing.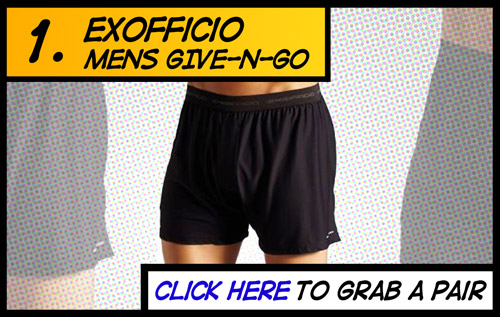 Ok, here's our winner, The ExOfficio boxers!
They simply are the best mix of tech, price, comfort and looks out there and perfect for alleviating and preventing jock itch.
And boy do they do a great job of keeping your groin feeling light, cool and most importantly…dry! This is mainly due to the material the boxers are made out of – a nylon base moisture wicking fabric that is 94 percent nylon and 6 percent Lycra. It is this moisture wicking fabric that helps drive sweat from the area keeping moisture (jock itch's best friend) away! It is also allows super quick drying making the ExOfficio perfect for travellers.
Also, and this is a massive plus – the fabric is odor resistant! Yep that's right, not only will your junk stay fresh, but any nasty odors will be kept at bay! The fabric is treated with Aegis Microbe Shield – scientifically proven to control and prevent odor-causing bacteria.
Want to read more about the ExOfficio Give-n-Go boxers here
Oh and here's one more, just for laughs!
Ok, so this one's not really gonna help too much with you beating jock itch, but these are pretty damn funny (and they do say that laughter is the best medicine!)!
With any of these 5 choices you will definitely be helping your cause.
Remember that when curing jock itch, a multi pronged attack is best, so make sure you have the best cream, spray and soap to go with your underwear selection!