Read on for our comprehensive review of ExOfficio Men's Give-N-Go Boxer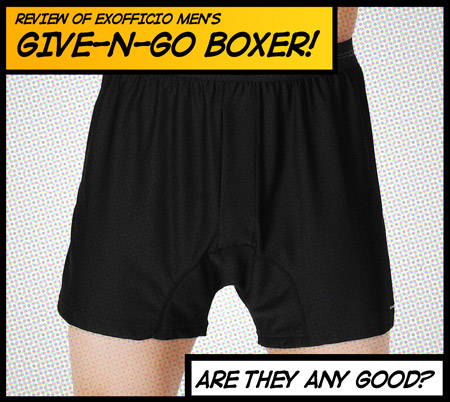 Before reading this article check out our Top 5 "Best Underwear" available for helping in the treatment of jock itch! Done that? Ok, good!
Now I'm sure you noticed that the ExOfficio Give-N-Go Boxers actually came in 1st place, meaning in our book they are best underwear available for helping prevent and alleviate jock itch symptoms.
It's for this reason that we've decided to go back and dedicate a whole review just to this product. Read on as we dig into what makes them great and see whether we uncover any nasty negatives (spoiler alert….we don't really).
First up – let's look at the pros and cons.
Pros:
With an average 4.6 stars out of 5 on amazon, the masses have spoken – and they're only saying good things!
94% nylon and 6% spandex. This means you get the breathability and strength of nylon while enjoying the stretch and comfort spandex brings.
These bad boys are treated with Aegis Microbe Shield. This helps the boxers to maintain freshness long after cotton boxers would. This makes 'em perfect for sticky climates and adventurous active sorts.
A low profile waistband means these boxers do not look ungainly when you lift your shirt. They look the goods.
Fabric is moisture wicking – meaning it naturally pulls moisture away from your body. This is huge in creating a dry environment so jock itch cannot grow.
Super quick to dry. This means if you're travelling you can wash and dry quickly, allowing you to take fewer pairs.
Cons
The price is a little bit more than you may be willing to pay.

General thoughts on the ExOfficio Men's Give-N-Go Boxer
When it comes to combatting jock itch, if you can control the battlefield, you can win the war. In other words – If you can keep your crotch dry then you can really limit the amount jock itch can take hold, or in many cases – stop it happening completely.
The single most powerful way to do this is in the choice of underwear you wear.
When choosing the best underwear for jock itch prevention then there are two rules you should adhere to.
Rule no. 1 – Keep it Loose.
Yep, as stated in our "What is the best underwear for jock itch" article – you have to remember to let your balls breathe. Jock itch loves dark, sweaty places more than a fat kid loves cake so keep it loose, keep it breezy.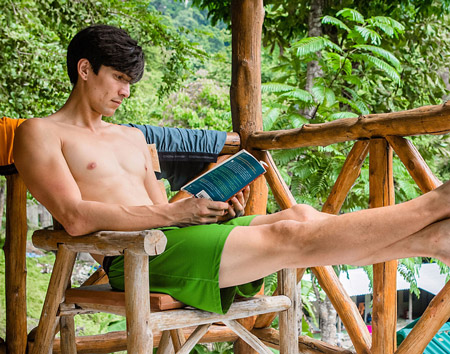 Rule no 2. – Keep it Light.
Breathable, light fabrics are the only way to go when fighting your crotch rot.
So, with these rules in mind, you can see that the ExOfficio Give-N-Go boxer ticks all the boxes. Remember the fight against Jock Itch starts in your wardrobe.


Why are the ExOfficio Boxers so good?
Ok, you've heard our general thoughts on the product, but we thought we'd dig in a little deeper to explain why they topped our list for fighting itchy balls!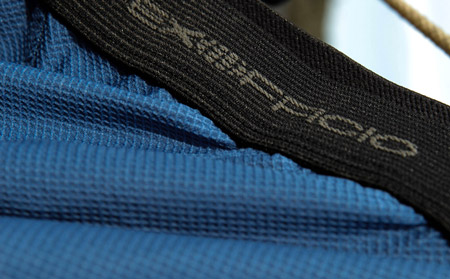 Diamond-weave mesh fabric.
What! These undies are made out of diamonds?!?! No way?!
Calm down dude, they are NOT diamond encrusted underwear. Though that'd be pretty darn sweet.
Instead, what we're talking about here is the way the fabric is weaved into a diamond pattern. Why the hell would anyone want to do that you say. Well it's simple. By weaving it like this the fabric takes on a super strong, super durable quality, all while being really, really breathable. If the fabric was just weaved normally (such as how cotton is) then the strength and breathability wouldn't be there.
The Aegis Microbe Shield and its straight up scientific odour killing powers.
The Aegis Microbe Shield is a bad ass scientific odour killing machine. We're not exactly scientists here at Jock Itch Crusader but here is a video worth looking at that dives deep into the insane science behind it all.
Simply put, some geeks got sick of their shit stinking and decided to do something about it. Needless to say, the following happened – they saved the day, the quarterback became their best friend and they pulled all the chicks. Seriously, that's how it went down. Ok, maybe not.
Drying time.
Ok, so drying time isn't really super important to the effectiveness these boxers will have on your jock itch concerns, but…they do help give you an idea of how good this fabric is at drying and staying dry when they are on you.
In our tests we found that they would dry in about an hour and a half if hung up in a bedroom. No not in the sun, and not in front of a fan. Just wrung out as you would normally. That's pretty darn good in our books!
Specifications –
Type: Boxer

Inseam: 3 inches

Fabric: Give-N-Go Stretch blend of 94 percent nylon, 6 percent Lycra

Weight: 3 ounces
What other customers are saying.
Amazon review – After Year One! –Garrett Mcconnell –
(5 / 5) – "
I used these originally for their fast-drying and anti-microbial abilities, but the thing that convinced me to wear these long after necessity was their comfort. I will wear exofficio boxers for the rest of my life because they are far more comfortable than any cotton, nylon, or silk boxers I have ever worn."
Amazon review – Hands down, my FAVE underwear. –MeanMy Baby –
(5 / 5) – "
Barely any sweat down there even on the hottest days, and this is coming from a man who works outside, and has for 16 years, 42 weeks a year, in the sun and heat, next to a 165 degree piece of metal. I have experienced chafe, many times BAD- this made me go out and search for the right pair of boxers. I don't enjoy briefs, nor boxer briefs, I like to hang LOOSE."
Amazon review – Great Boxers! –Amazon Customer –
(5 / 5) – "
I am a pretty heavy sweat kind of guy and these really keep me comfortable when it gets hot. The other really nice thing which puts them at the top is the comfortable waist band. This is the one area I didnt like as much on the Patagonias after a long day. I have 7 pairs of these now for everyday wear and they last for years."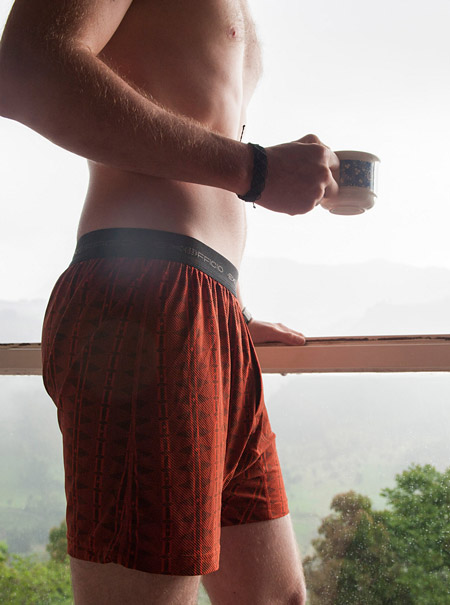 Remember that when going to war against jock itch, a multi sided attack will win. So have a look at some of our other articles to make sure you have the best cream, spray and soap to go with your underwear selection!