Read on for our comprehensive review of
Champion Men's Performance Boxer Brief
Before reading this latest review take a second to check out our Top 5 "Best Underwear" available for helping in the treatment of jock itch! It's pretty bad ass. Just sayin'.
Gone and done that? Ok, good – now read on for a more in depth look at Champion's offering and why we think it deserved a spot in our Top 5.
First up – lets look at the pros and cons.
Pros:
Consensus is gooood!
On amazon these legendary "champions" are making a cool 4.3 stars out of 5 on average. This means that there's more than one set of balls out there that likes the way these hang.
Streeeeeettttch fabric. (see what we did there, clever huh…ok maybe not)


With the right mix of fabrics (

58% Cotton/37% Polyester/5% Spandex) the scientists over at Champion (sure they've got scientists!) have created a boxer brief that can be put through the ringer with everyday wear and will still retain it's shape. Shit yeah.

Wick away fabric.
Ok, now we're going to let you in on a millennia old secret… Jock itch loves, I repeat LOVES, moisture. Yep, the darkest, dampest recesses of your crotch are are like a friggin' strip club to your Jock Itch foe.


So, this is where the wick away fabric that these Champion boxer brief's are repping comes into play. The fabric of these boxer briefs naturally wicks away sweat from the body, this keeps you drier, cooler and less susceptible to an onslaught of the baddest crotch rot around…jock itch.

No riding up your backside.
The same scientists* that figured out the stretch fabric also had another gem under their sleeves. No ride up design. That's right, a pair of these puppies will stay exactly in their place no matter how long or hard you wear them.

 

*Disclaimer – there may or not be said scientists.
Value for money. That's right, buy these bad boys and spoil your woman on a movie.
Cons
Champion ain't exactly the "coolest" brand anymore, I mean unless you're living in 95'.
General thoughts on the Champion Men's Boxer Brief
When you step up to attack your jock itch craziness your first plan of attack should be to control the battlefield. Because as Chuck Norris would know, to win the war you gotta own dat battle field.
Anyway, here are 2 good rules to follow when combatting Jock Itch.
Rule no. 1 – Keep it Dry.
First rule of Fight Club is to never talk about Fight Club. The first rule of combatting jock itch however is to keep your balls hanging dry! That means being smart about what you wrap your balls in. Wick away material is a massive must.
Rule no 2. – Keep it Light.
Breathable, light fabrics are the only way to go when fighting your crotch rot. Anything heavy is going to annihilate your crotch with heat and moisture.
Luckily for us, this boxer brief answers both of these important rules. These bad boys are "champions" at staying light due to their fabric mix of 58% cotton/37% polyester/5% spandex. This makes 'em flexible, giving you ultimate mobility while still being light. It also gives them the ability to wick sweat away from your body, which is vital (as the rules necessitate)!
What other customers are saying.
Here's what actual customers are saying about these jock itch crusaders!
Amazon review – Best Made, Best Fitting – MurphieNB –
(5 / 5) – "
Ok, I'm not inclined to write a lot of reviews, especially for underwear, but I'll speak up and say that this is the best fitting, best made underwear I have ever worn. I've had some of their boxer briefs for over a year, and just bought some more to replace some Hanes that I had."
Amazon review – Will purchase forever – Emmpee –
(5 / 5) – "
Fit better than $25 under armor boxer briefs. We will see how they hold up over time….. previous pairs have a year on them n still look new."
Amazon review – Great performance boxer briefs – All in DC –
(5 / 5) – "I got these for my boyfriend who has started working out a lot more and had complained of discomfort. he likes them very much, they fit well and wick away moisture as described."
Amazon review – Best underwear ever – Amazon Customer –
(5 / 5) – "I will only buy these or their successors from now on. Incredibly soft, thin, and the right mix of sweat absorption and actually drying unlike all-cotton ones. Great support, great look. I have to order a size up from my waist because I have a large rear, your mileage may vary."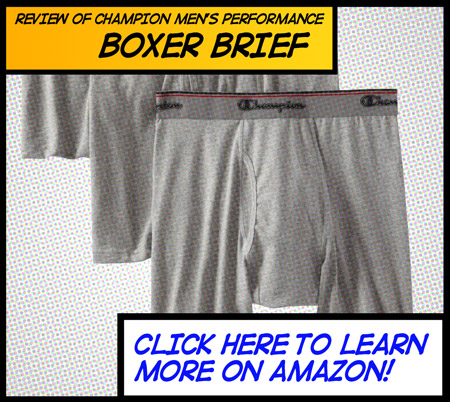 Ok soldier, before you move on I want you to remember something.
This fight you are currently carrying out is a war of attrition. You have to wear the jock itch mennace down. To do this you have to attack, attack, attack from all sides!
For this reason you should look over the following articles to arm your arsenal –