Read on for our review of Purely Northwest Antifungal Soap with Tea Tree Oil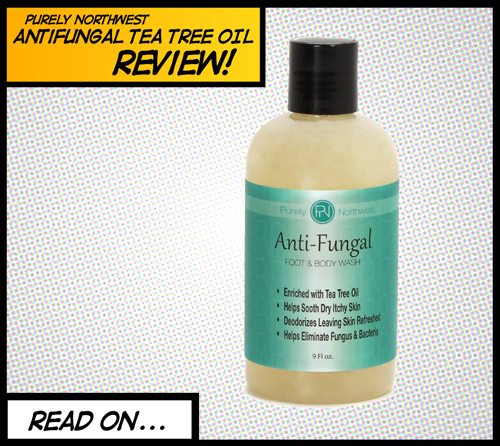 Pros:
Great for getting rid of stubborn bacteria and fungus.
A clean and refreshing post wash feel.
Annihilates body odor as well as combating jock itch.
Containing 100% essential oils that are proven to fight bacteria related infections.
Easily applied to your daily routine.
Cons:
Slight Medicinal Fragrance.
General Thoughts On Purely Northwest Antifungal Soap with Tea Tree Oil
Not only is jock itch a real pain in the pants, but it can also throw out your daily routines. This is especially true if you have a medicinal treatment that commands extra time and preparation such as some creams and powders. This is where a soap such as the Purely Northwest Antifungal liquid soap comes in handy. Because it is a soap, you can simply replace your daily soap with this one and wham bam thank you ma'am you are on your way to a itch free nether region!
The main ingredient is Tea Tree Oil!
Tea tree oil takes the fight to skin infections and problems such as jock itch. It packs a power punch of amazing antibacterial qualities, and with its natural antifungal properties tea tree oil can be more effective than other chemically designed over the counter medications.
What customers are saying.
Here's what other customers have to say about Purely Northwest antibacterial soap.
Amazon review – Great Product – Kenneth Sundaresan – (5 / 5) – "Just started using it. So far, no complaints at all!! Actually more fragrant than some of the others. If you are like most men, and get the occasional bout of ringworm, tinea versicolor, or athlete's foot, then this product is for you"

Amazon review – Very Helpful – Jayne R. Swanson – (4 / 5) – "I would give this item 5 stars but haven't used it long enough. The first few applications have been very helpful…I use it on my feet for athletes foot, and on other parts of my body. It seems to act right away to get rid of the fungus, and I would buy this product again."
Get Purely Northwest Antifungal Soap with Tea Tree Oil today!