Read on for our review of Lamisil AT Continuous Spray for Jock Itch"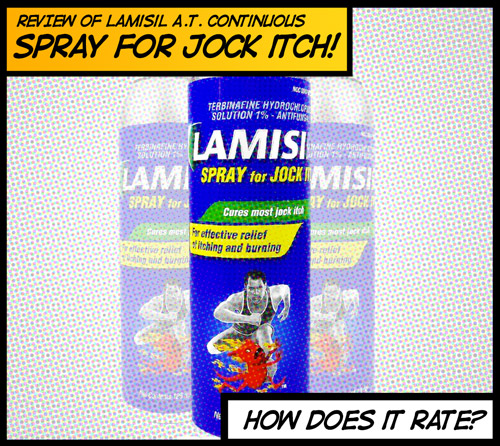 Pros:
Cures nearly all Jock Itch (

Tinea Cruris

).
Immediate itch relief!
Also relieves the cracking and skin scaling that come part and parcel with jock itch.
Contains Terbinafine Hydrochloride Solution 1% (heavyweight itchy balls beater!)
Application is simple and easy (see application instructions below).
The Can will spray at any angle.
Cons:
It can be hard to find in pharmacies and over the counter.

Spray sensation may seem awkward to some users.
General Thoughts On Lamisil AT Continuous Spray for Jock Itch
Lamisil AT Continuous Spray is a can spray that has the power to absolutely demolish your jock itch condition. Lamisil's brilliant reputation for skin care products continues with this spray, especially due to its secret weapon ingredient.
The powerful main ingredient is…
The main ingredient in Lamisil AT Continuous Spray is a little friend we like to call "Terbinafine Hydrochloride Solution". It is a hyper effective skin allergy solution that is used to fight not only jock itch but athlete's foot, nail fungal infections and pityriasis versicolor. It works hard to get in there and kill the growth of organisms that caused the irritation and infection in the first place, allowing you to finally get some peace in your pants!
What you need to know!
Using it is as easy as ABC, but if you want to get the quickest and best results then follow the instructions below.
1. Wash your affected skin area with soap and water, making sure to dry completely before applying.
2. Remove cap of can spray.
3. Let it rip! Hold the can 4 to 6 inches from your skin. Press and hold to spray across all of the are in question! Think of it like crop dusting from a plane, except your irritated skin is the crop, and the can's the plane!
4. Spray the irritated skin once a day (morning or night, it doesn't matter) for 1 to 2 weeks or as directed by your doctor.
5. Use a cloth to wipe away any excess buildup around the spray nozzle, as this could impede the next can use.
6. Return the lid to the can.
7. Wash your hands thoroughly and consider it a job well done!
What customers are saying.
Here's what other customers have to say about Lamisil AT Continuous Spray.
Amazon review – Great Stuff – Satisfied Customer – (5 / 5) – "Great stuff: I have tried at least six different brands. Some gave temporary relief, some made the jock itch worse, and Lamisil helped immediately and the condition went away in three days. I wish I could get my money back on all the other brands that were inaffective. The only problem is finding the Lamisil spray on a drug store shelf?
I did find it in ointment form at K-Mart. I am going on Lamisil's site to ask where available on a store shelf in my city or if I can buy direct. It worked for me when all the other popular name brand spray's and ointments/creams did not."
Amazon review – Five Stars – Brita.Wisler – (5 / 5) – "The only thing that works on my husband's rash. Have tried all the other brands."
Amazon review – It worked great for me! – Coastal Camper – (5 / 5) – "This worked more quickly than other kinds that I've tried in the past. Also, unlike most, it will spray at any angle."
Get Lamisil AT Continuous Spray today!