Read on for our comprehensive review of Lotrimin AF Jock Itch Spray Powder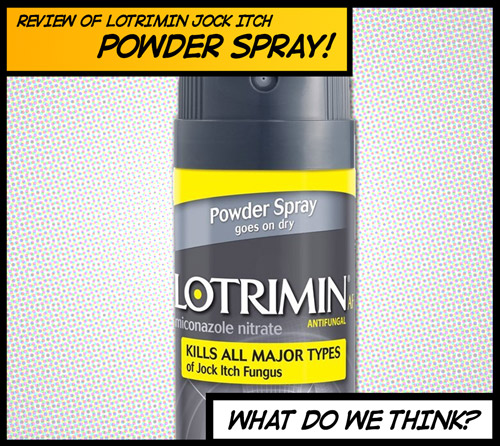 Pros:
• With continued use this product will get rid of your jock itch.
• Some users have reported great results from using Lotrimin AF Jock Itch Spray Powder in a matter of days –
Amazon review – (5 / 5)– "The guys at my house ended up trying multiple products and both agreed this is THE treatment that works the best."
• Easy application means there's no need to get your hands dirty by rubbing creams onto your skin. This also means it is easier to apply when out and about.
• The main ingredient is MICONAZOLE NITRATE 2% – a badass jock itch buster!
• Applies dry directly to the skin.
Cons:
• When spraying those "hard to reach" places you may have to invert the Lotrimin Spray can. The spray may sputter a little as a result. This should not affect application too much though.
• When applied to jock itch prone areas you may experience a slightly cool sensation. This is a good thing, it means that the active ingredients in the can are getting to work in curing your jock itch. And, you may even enjoy the fresh sensation.
• Lotrimin may be hard to find in some drug stores (pharmacies).
General thoughts on Lotrimin AF Jock Itch Spray Powder

First things first, this bad boy is a spray powder – what the hell is this you ask? Well, put simply, it's a powder that is applied by use of a spray can. This kind of application is brilliant because it means the product goes exactly where it needs to be. This will save you a bundle of time and energy, especially when you think about the other comparable cream options.
Lotrimin Jock Itch Powder Spray actually applies at a cool temperature, this gives the illusion that the spray is wet. Trust us, it's not (even says "goes on dry" on the can!). That being said, the powder stays where it was applied. It is usually worth giving it a couple of seconds to "dry" before putting on your clothes.
Amazon review – Melvin Ruth – (5 / 5) – "I bought the 3 can package. After a couple of days my problem was resolved. I get chat in the summer from sweating & this stuff work on that problem also."
This spray powder is very effective for typical jock itch causes such as tinea cruris and ringworm, and application of Lotrimin Spray Powder twice a day is recommended. Due to it being a spray powder, application is very easy, so this isn't too much of a burden.
The main ingredient is Miconazole!
Ok, here's why this product works so well. It is supercharged with MICONAZOLE NITRATE 2%, a proven jock itch stopper, it is also very effective against ringworm and athlete's foot.
The active ingredient is 2% by weight, which is twice as much as most other jock itch cures on the market. While most products can only claim to have 1% of an active ingredient, this product doubles that. However, it is still gentle to sensitive or tender skin.
With Miconazole the itching caused by jock itch should decrease significantly within 2 to 3 days though it is best to continue treatment for at least a week after symptoms such as itching and redness are no longer apparent.
Important information about Lotrimin AF Jock Itch Spray Powder
Make sure to use this application for the full period prescribed by your doctor or pharmacist.
If you have not seen a doctor, make sure to follow the suggested application and duration on the can.
Do not bandage the traumatised area.
Also, do make sure to wear loose fitting clothing – This will help keep the area dry and allow Lotrimin to work its jock itch stopping magic!
Oh and don't spray on open wounds and avoid getting into your eyes or mouth – it's not an after dinner breath mint!
What customers are saying
Here's what other customers have to say about Lotrimin AF Jock Itch Spray Powder.
Amazon review – It works. Seanyman's mom –
(5 / 5) – "The guys at my house ended up trying multiple products and both agreed this is THE treatment that works the best. They prefer the spray over the cream or powder and the yellow label over the other Lotrimin products. It also works on athlete's foot fungus if picking that up in public swimming pool areas. I ended up ordering this on-line at Amazon because it was the best price I could find and it was sold in a convenient three pack. Not much more can be said other than it's a no mess spray and has proven to be quite effective quickly!"
Amazon review – Try it and see. Melvin Ruth –
(4.5 / 5) – "
I bought the 3 can package. After a couple of days my problem was resolved. I get chat in the summer from sweating & this stuff work on that problem also."
Amazon review – Great for other skin issues. Charstar –
(5 / 5) – "
This stuff works great for things other than jock itch. For instance, if you are a full-figured lady, you may occasionally get a yeast infection under your bosom during the warm, humid months of the year. This spray works better to clear that up than three prescriptions I've been given by my doctor. Give it a try!"